Tracy Sarkcess is the wife of Ghanaian rap King, Micheal Owusu Addo known professionally as Sarkodie and before getting married to Sarkodie in a splendid traditional wedding ceremony on 17th July 2018 was regarded as one of the 'descent' partners of celebrities in Ghana but the situation seems to have changed now.
A section of social media users claim the much respected and adored woman, Tracy Sarkcess is gradually turning into a Slay Queen and an 'all over the place' lady right from day one of her wedding and they are not pleased with the 'backward' change.
SEE ALSO: First public appearance of Sarkodie and Tracy after wedding
One striking thing that has changed in Tracy getting people worried is the change in her clothing. The descent lady who used to cover up and look presentable everywhere now won't step out unless all her boobs and other sensitive parts are exposed.
According to her critics, as observed by Ghpage.com on all the social media platforms, it started from her Traditional wedding ceremony. Tracy is a lady with an ample breast so many expected such a decent lady to wear something that won't make it appears she is selling her boobs.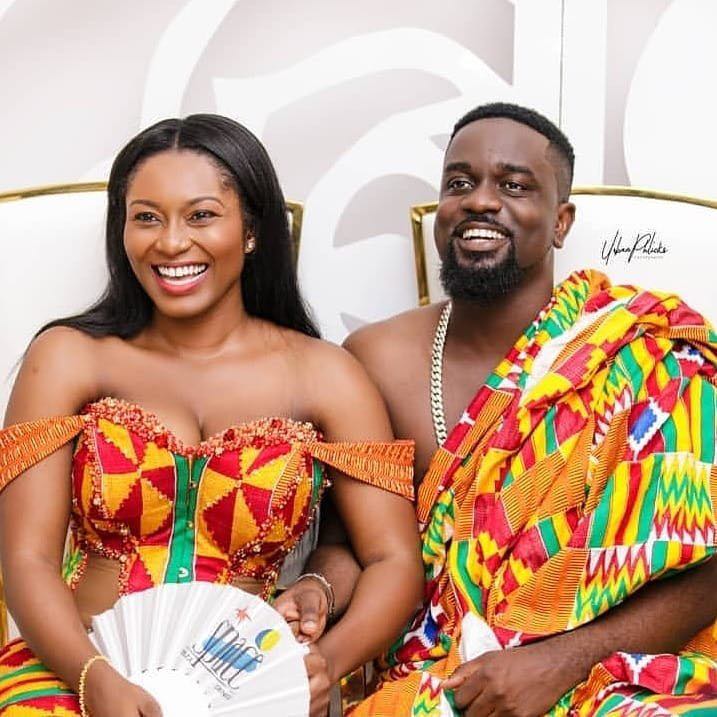 SEE HERE: Here are the official photos from Sarkodie's Traditional wedding
But no, her boobs were all over the place but since it was her big day after waiting 13 years to wed, nobody wanted to spoil the day for her and so kept quiet. But her critics insist her choice of dressing was no no no.
Tracy Sarkcess went back to her true self on her white wedding on 21st July and look gorgeous whiles all covered up. In fact, that is the kind of Tracy we have come to know.
SEE HERE: Here are the official photos from Sarkodie's white wedding
What apparently got her critics which most of them are her fans talking was her dressing to the Glitz Awards 2018 held over the weekend.
Tracy Sarkcess again showed more flesh than expected and people are beginning to wonder if she is turning into a Slay Queen after her marriage.
Wearing a gorgeous red dress, Tracy showed too much of her backside and too much cleavage. Sweetheart your fans say cover up, please.
SEE ALSO: More unseen beautiful photos of Sarkodie and Tracy's marriage ceremony
Well, another thing that got Ghanaians talking about Tracy Sarkcess after her wedding was when she waded needlessly into the Menzgold-Bank of Ghana brouhaha.
This particular incident got people so outraged that they even compared her to our very own Shatta Michy who care less about what people said about her until now.
SEE HERE: Ghanaians tear Sarkodie's wife into pieces for meddling in Menzgold-BoG issues
All in all, Ghpage.com is always here to give you all the gist on your celebrities. Stay with Ghpage.com for all your updates.