In an interview on GhOne TV, Emmanuel Nii Adom Quaye aka Striker  confessed that indeed the producers of "Beast of No Nation" enrolled him in school but he left to hustle on the street because he didn't like the comfort of school and sadly for him, he has turned into a poor street child, destitute and confused.
The fate of Striker has made us wonder if indeed Abraham Attah is the only child from the award-winning movie who's living a better life since most of them have not been heard of; perhaps because Abraham won an award.
read also: Abraham Atta has changed towards me: he treats me rudely – Striker
Well, let's take you to one of the scenes in the movie which caught our attention to one of the many talented child actors in the movie.
I hope you can well remember 'Imagination Tv' scene right? If not watch it below.
The talented actor who played Dike in the movie and was able to portray different acts in that scene has been discovered and he goes by the name Emmanuel Affadzi.
read also: Striker's manager finally speaks – reveals who took his money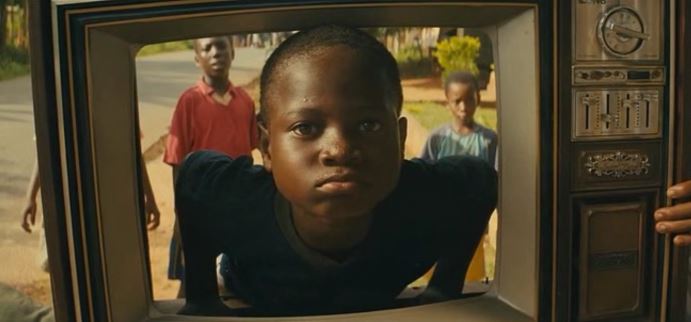 read this: Abraham Attah sheds light on his life before stardom
Per our checks, Emmanuel Affadzi has just finished shooting a new movie, called Borga, directed by talented German-filmmaker, York–Fabian Raabe and from all indications, he's at least living a far better life than what we've seen and heard of Strika in the last 72 hours.
A photo of him from the set of the movie in Accra below shows Emmanuel beaming with a smile.
See the photo below…
read more: Directors of 'Beast of No Nation' gave me $15,000 – Shatta Wale reveals